Multi-fiber assemblies (trunk cables)

Multifiber cable assemblies combine the bandwidth capacity of several individual cable assemblies into a single convenient, easy-to-use and quick-to-install cable assembly. Multifiber cable assemblies are traditionally used in backbone, premises distribution, and interconnect applications which require multiple fibers to be routed together from point-to-point.

Multi-fiber Cable Assemblies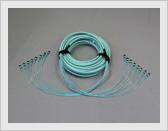 Custom multifiber assemblies are manufactured to meet the individual customer's exact needs and special requirements. Listed below are some of the different cable types and constructions available to you for the build of your multifiber assembly. An assembly can be created from any brand(s) or type(s) of cables and connectors. All of our assemblies meet quality standards, are individually tested by our experienced technicians, and come with a lifetime guarantee.
Cable types and constructions
2 to 144 fiber count available
Singlemode, multimode and hybrid
Riser, plenum or LSZH
900 micron distribution
250 micron distribution
Breakout distribution
Ribbon
Interlocking armor tight buffered
OSP
Armored OSP
Loosetube
Bend-insensitive
Indoor/outdoor
Direct burial
ADSS
Messenger
Tactical
Outside plant
MTP ribbon
MTP/MTO
Plug and play
Harnesses
Breakout kits
Pulling eyes