Fiber Assemblies

Optical Cables and Components specializes in providing you with cost-effective cabling products and solutions, using the trusted, brand-name products you want at the lengths your configuration needs. Each cable assembly is configured individually, tested by one of our experienced technicians, and comes to you with a lifetime warranty.

Fiber Patch Cords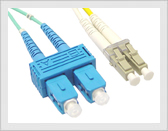 Fiber optic patch cords are used when it is necessary to connect multiple devices in a network. Normally, they connect a switch to a patch panel or panel-to-panel. There are a wide range of fiber patch cords available.
Options
Cables can be imported or made in a U.S. factory.
Multimode 62.5/125 OM1
Multimode 10 Gig OM3 & OM4
Multimode 50/125 OM2
Singlemode 9/125 OS1 & OS2
Simplex or Duplex
Connector Types
Jacket constructions, sizes and polish
PVC, Plenum and LSZH
Zip, Mic
1.6 mm, 2.0 mm, 3.0 mm
APC, UPC, PC
Cable Lengths
Feet or meters

Fiber Optic Splitters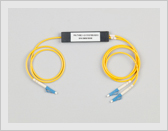 Fiber optic splitters are used to combine or distribute light from single/multiple inputs to single/multiple outputs. They are available in singlemode and multimode with a wide range of splitting radios from 50:50 to 1:99.
Connector Types
Polish

Mode Conditioning Cables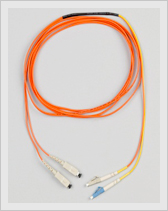 Mode-conditioning cable assemblies are primarily used in gigabit Ethernet 1000Base-LX applications in order to prevent differential mode delay (DMD). A number of choices are available in mode-conditioning cables, including singlemode and multimode fiber.
Connector Types

Pigtails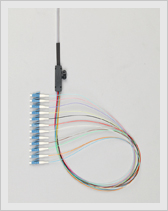 Pigtails are used for fiber optic fusion splicing. One end of the cable assembly is terminated using selected connectors, while the other end is bare. The bare end is fusion spliced in the field.
Pigtail assemblies can be ordered in single fiber, 6 and 12 Fibers using multimode 62.5/125, 50/125, 10 Gig or singlemode 9/125 Fiber. They are available in multi-colored and various lengths.
Connectors
Pigtails are terminated at one end with a connector. You may choose the connector for the termination.